Publié le 27 Juillet 2014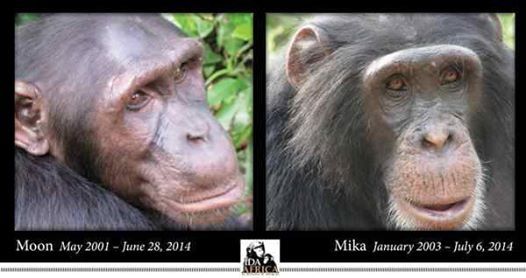 We are reeling from the deaths of two of our beloved chimpanzees – one was the victim of a sinister killing and the other died from a terrible viral disease.

In late June, young adult male MOON got out of his 20-acre enclosure and disappeared into the surrounding forest. We looked for him and were surprised to find no sign of him, surprised that he didn't come back. We've learned that a poacher killed him about 5 miles from our Center soon after he left his enclosure. He had probably lost his way in the forest. He was not afraid of people and didn't hide himself. Thirteen-year-old Moon, who had been with us since November 2002, loved to laugh and play. He was especially tender with his childhood friend Lucy, who he adored. Though we can never bring Moon back, we are doing all we can to bring justice for him. We hope to report an arrest in days to come.

About a week after Moon's death, on July 6th, an outbreak of the severe Central African strain of monkeypox claimed the life of our sweet MIKA. We rescued Mika in July 2003, when she was less than a year old. Her intelligence and gentle disposition endeared her to all who knew her. She fought hard for eight days to beat the infection, but it proved to be too much for her. This horrible virus, a zoonosis, is believed to be carried by small mammals such as rats and squirrels.

The losses of Moon and Mika have devastated us, but we must go on for the sake of all the rest of our chimpanzees who are helping us through our grief. We need your support more than ever. We've just launched an Indiegogo campaign to build an enclosure that will provide a permanent forested home for some of our younger babies and some adults, including females who may adopt the babies. Read more about it. I hope you will help and pass it onto others who will. Thank you in advance for your support!