Bushmeat in Central Africa
Cameroon shares a border with Equatorial Guinea, and sadly, the bushmeat situation in the two countries is similar. We have slightly more enforcement in Cameroon, but not nearly enough.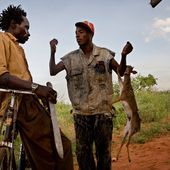 Laws Prohibiting Bush Meat Are Actually A Boon For The Bush Meat Biz
Note: This post contains a photo of a monkey carcass, on sale at a bush meat market, that may be disturbing to some readers. What's for dinner? Porcupines, giant squirrels, dwarf crocodiles and a ...
http://www.npr.org/sections/goatsandsoda/2015/08/14/431965684/laws-to-prohibit-bush-meat-are-actually-a-boon-for-the-bush-meat-biz